New Board Elected at AGM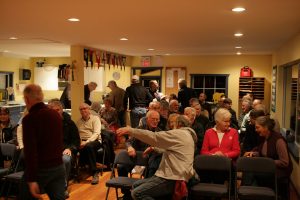 A room-filling crowd gathers in the Clubhouse for the 2018 AGM.
The 2018 Annual General Meeting of the Sailing Club was held at the Clubhouse on Tuesday, September 27.  The room was full as people heard the final reports from the 2018 Board.  Newly elected Commodore Casey de Jong heads the 2019 Board, which includes seven continuing directors and four newly elected.  Many thanks go to outgoing Board members for their energy, commitment and service.  The new Board begins its tenure with its first Board meeting on Tuesday, December 4.
The 2019 Board, left to right:  Past Commodore Paul McManus, Fleet Captain Racing Greg Taylor, Fleet Captain Dinghy Jim Raddysh, Wharfinger Roy Marlatt, Treasurer Norbert Schlenker, Staff Captain Mike Dawson, Fleet Captain Cruising Steve Sawyer, Rear Commodore Rod Macdonald, Commodore Casey de Jong, Secretary Richard Stevenson, and Vice Commodore Chris Cheeseman.
Click on photos to enlarge.  (Thanks to Todd Brett for the photos.)