Registration for the 2020 SISC Summer Sailing School
The Summer Sailing School 2019 was, as always, a great success, with students learning how to sail or improve their skills, getting instruction on safety at sea, and having fun! Summer 2020 will be another great season at the Sailing School for all kids who want to learn to sail, or to keep improving their skills.  Watch this page for details of the 2020 season as the 2020 summer approaches.
The Saltspring Island Sailing Club Summer Sailing School provides learn-to-sail courses, from basic to advanced sailing skills, for children and youth ages 5 to 18. See the course listings below to see age requirements for the course levels offered. As well as sailing instruction, all our courses include boating safety and an understanding of marine ecosystems.
Our courses are part of the CANSail program developed by the BC Sailing Association. Learn more about CANSail by visiting the BC Sailing website.
For information about which courses prospective students should choose based on their skill level and past experience, refer to the CANSail Level Course Selection Guide found on the Sail Canada website.  We recommend students have the following prerequisites or equivalent experience prior to enrolling in courses.  We do our best to accommodate all students, however if a student is not appropriately qualified for a course we may not be able to switch courses due to course loads and/or availability.
Course Guidelines
| | |
| --- | --- |
| Wet Feet | Ages 5 to 7 |
| Opti Beginner | Ages 8 to 10 |
| Opti Intermediate | Ages 11 and under – Prerequisite: Opti Beginner |
| Opti Advanced | Prerequisite: Opti Intermediate |
| CANSail Level 1 | Ages 11 plus |
| CANSail Level 2 | Ages 11 plus – Prerequisite: CANSail Level 1 |
| CANSail Level 3 | Ages 11 plus – Prerequisite: CANSail Level 2 |
| CANSail Level 4 | Ages 11 plus – Prerequisite: CANSail Level 3 |
The Schedule and Fees for 2020 will be linked here as the season approaches.
The Sailing Program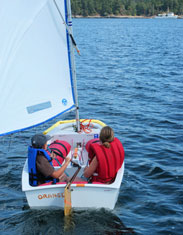 Beginner Courses
Optimist dinghies (Opti's) are used for our Wet Feet course for ages 5-7, and for our Opti Beginner and Intermediate courses for ages 8 through 10 years. Older students start in CANSail Basic (Level 1). All students must be able to swim. Optimist courses run for one week, Monday to Friday, including holidays. Those returning for a second or third year have the opportunity to sail single-handed and also to sail Lasers where the student's skill level permits.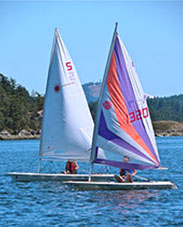 Advanced Courses
Students in the CANSail Level courses must be between the ages of 11 and 18 inclusive, must be able to swim 50 metres with a lifejacket on, and be able to tread water for two minutes without a lifejacket. Students in Advanced Courses must have successfully completed previously required courses or equivalent. Laser and C420 dinghies are used in these courses.
Please make sure your sailor has the appropriate pre-requisites for the course they are being enrolled in. Sailors in the CANSail 3 must have completed CANSail 2; sailors in the CANSail 4 course must have completed CANSail 3. Proof of certification may be requested by the instructor.
Private Lessons
Private Lessons are available on request during the sailing school weeks between 4:00 and 7:00 pm
Click here to go to the Registration Page.
Instruction and Facilities
SISC Summer Sailing School uses a dinghy sailboat fleet of Lasers, 420's and Optimists (Opti's). In addition, our instructors use inflatable "chase boats" for on-water instruction and safety purposes. In 2012, the Sailing Club completed a major marina renovation that has greatly improved our dock and dinghy facilities. All our Sailing School boats are easily accessed and set up on a platform at the water level. This allows students and instructors to safely rig up the boats on the dock and easily slide the boats into the water when they're ready to sail.
Our clubhouse has a Juniors Room where students learn theory and classroom subjects, and where our younger students can enjoy other activities like artwork when they're not on the water. Our waterfront lawn area, which  overlooks the marina, is a pleasant place for parents to watch their youngsters learn to sail in Ganges Harbour. Convenient parking is available for parents of Sailing School students during class hours.
SISC Summer Sailing School instructors are mature, experienced, CANSail-qualified sailors. They have all worked as instructors at the SISC Sailing School in past seasons, and are required to continually upgrade their skills. Our instructors have lots of experience teaching kids of all ages how to sail.
For more information, contact the Sailing School Coordinator