Sailing School and Junior Programs
Programs for Youth at SISC
SISC offers two programs for youth—the Junior racing program/youth sailing team AND the Summer Sailing School.  Details of the Junior racing program/youth sailing team (which is currently being revised) may be accessed by clicking here.
MARCH 17 NOTE RE COVID19 PANDEMIC:  Registration for the summer 2020 Sailing School has been temporarily suspended.  Please stay tuned for more details as they develop.
Learn to Sail at Saltspring Island Sailing Club—Summer Sailing School 2020
SISC offers a range of fun summer camps. Whether you've never been on the water, or if you already have skills that you want to improve, we've got a course for you! From our one-week Introduction to sailing to our Advanced skills, we want to make this a summer to remember.
We have an excellent team of instructors who are Sail Canada trained and certified. Our programs follow Sail Canada's CANSail curriculum.  Learn more about CANSail by visiting the BC Sailing website. Our youth programs are designed for students between 5 and 18 years old.
Training runs Monday to Friday from 9am to 3:30pm unless otherwise noted.  Note that there will be no classes on Monday, August 3 (BC Day.)  Cost of program includes a t-shirt.
There is no requirement to be a member of SISC to take part in our summer programs or youth sailing team.
Read below for course descriptions.
Click here to go to the Registration Page which outlines the sailing school registration procedure, complete with schedules and costs.  See note in red above.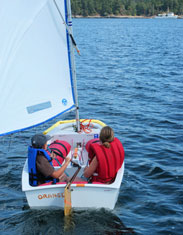 2020 COURSE DESCRIPTIONS
CANSail Optimist Programs (5-11 years)
All Optimist programs are one week courses. Classes run from 9:00am to 3:30pm Monday to Friday (unless otherwise noted). 
The Opti Basic, Intermediate, and Advanced courses provide opportunity for CANSail levels, but some sailors may need to take the program twice to achieve the the level.
Opti Wet Feet (5-7 years old – must have completed first year of school)
A camp designed to help young sailors feel comfortable on the water and experience the sport of sailing in the most positive way, with a focus on fun and being comfortable and safe on the water and docks. 
Opti Basic (ages under 10)
Basic sailing course for new sailors or those with limited sailing experience. With two sailors per boat, children will learn safety, crewing, steering and seamanship. Sailors have the opportunity to complete their CANSail 1.
Opti Intermediate (ages 11 and under)
Pre-req: CANSail 1
Opti Intermediate teaches sailors to sail all by themselves as they continue to develop their skills in the Optimist dinghy. Sailors have the opportunity to complete their CANSail 2.
Opti Advanced (ages 11 and under)
Pre-Reg: CANSail 2
Opti Advanced is for the confident Opti sailor who want to learn how to sail fast. We will be introducing elements of racing, sportsmanship and teamwork.
Sailors have the opportunity to complete their CANSail 3.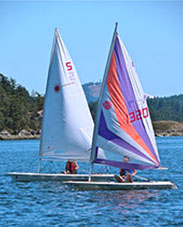 CANSail Programs (Ages over 11 years)
Intro to Sailing – 1 week
An introductory sailing course for first-time sailors or those with limited sailing experience that provides the essential skills for on water safety, technical knowledge, and practical ability. No prior sailing experience is required. Sailors in this course have the opportunity to complete their CANSail 1 level.
Basic – CANSail 2 – 2 weeks
Pre-req: CANSail 1, intro or equivalent sailing ability
For somewhat experienced sailors aged 11+. Over a two-week period, sailors will be introduced to a variety of basic and intermediate double-handed sailing skills in the RS Zest or 420 dinghy. Sailors in this course have the opportunity to complete their CANSail 2 level
Intermediate/Advanced CANSail 3 & 4 – 2 weeks
Pre-req: CANSail 2 or CANSail 3
Sailors build on existing skills in all types of conditions. An introduction to elements of racing and a greater understanding of how sails work and how a sailboat moves, in 420 dinghies. It is recommended that sailors take this course twice in order to achieve both CANSail 3 and 4 sailing levels.
Facilities and Cancellation Policies
SISC Summer Sailing School uses a dinghy sailboat fleet of 420's, RS Zests, Lasers and Optimists (Opti's). In addition, our instructors use inflatable "chase boats" for on-water instruction and safety purposes. All our Sailing School boats are easily accessed and set up on a platform at the water level. This allows students and instructors to safely rig up the boats on the dock and easily slide the boats into the water when they're ready to sail.
In the clubhouse, students learn theory and classroom subjects and our younger students can enjoy other activities like artwork and crafts when they're not on the water. Our waterfront lawn area, which overlooks the marina, is a pleasant place for parents to watch their youngsters learn to sail in Ganges Harbour. Convenient parking is available for parents of Sailing School students during class hours.
Cancellation Policy: If you need to cancel, please let us know as soon as possible. If you cancel outside of two weeks prior to the start date, you'll recover a refund minus a $50 cancellation fee. We do not offer refunds within two weeks of the start date of your course.
If, in the SSI Sailing Club administration's opinion, the course does not have enough students signed up, the Club reserves the right to cancel the course.  In this case, a full refund will be given.
For more information, contact the Sailing School Coordinator