JUNE 10 NOTE RE COVID19 PANDEMIC:  Registration for the summer 2020 Sailing School has been temporarily suspended.  We are currently developing a model for students 10 years and older to participate in a modified 2020 Sailing School, according to required government protocols and mandates.  Watch this page and the registration page for updates during June, looking toward a possible July start.
Summer Sailing School 2020
(Note:  for evolving details of the Junior racing program/youth sailing team, currently in revision, click here.)
We're pleased to be able to offer our summer junior sailing programs during this 2020 summer, but with a different look because of the COVID19 pandemic. We will be adapting our programs to follow current operating guidelines from the provincial government, viaSport and BC Sail.  At this point in time we are looking at a July 6 to August 14 timeline, although that might possibly be extended.
Some of the highlighted changes for 2020 include:
All of our classes will be delivered in a 'single-handed' environment (one student per boat), and each student will be assigned one set of equipment per program session.
Each boat will be cleaned at the end of every use.
We are restricting classes to ages 10 and up, as we will be spending most of our time on the water.
A parent wishing to share a boat and learn to sail with their child is an option for this year.
Once we post our course registration, registrants will be "wait-listed" until we have final authorization to run the programs. Please only put your child on the wait-list if you fully intend to take the spot.
We hope that this summer offers more opportunities for youth who want to stay local and experience a new sport. The BC Government and SISC believe that outdoor distanced camps (with COVID19 modifications) are one of the safer activities to do. We have scheduled many one-week classes for those who may want to try out sailing. Training runs Monday to Friday from 9 am to 3 pm unless otherwise noted.  There will be no classes on BC Day (Monday, August 3).
We have an excellent team of instructors who are Sail Canada trained and certified. Our programs follow Sail Canada's CANSail curriculum.  This summer's youth programs are designed for students between 10 and 18 years old.  There is no requirement to be a member of SISC to take part in our summer programs.
If you are unsure of what program to put your child into, please contact us:  dinghy@saltspringsailing.ca.  As a guideline, smaller children should sail Optimists until they are 12, as a Laser is often difficult to manage when you are underweight – and it is less wet.
If there is a program that you are unable to take, but would like to, please let us know:  dinghy@saltspringsailing.ca. We expect that we will rearrange programs depending on the commitment and demand.  If you would like to learn to sail with your child (in the same boat), we are offering that as an option.  Please contact us at dinghy@saltspringsailing.ca for more information.  Note that we are not currently offering CanSail 3/4 programs.
Read below for course descriptions.  Click here to read the COVID19 Risk Mitigation Plan details.
Click here to go to the Registration Page which outlines the sailing school registration procedure, complete with schedules and costs.  See note in red above.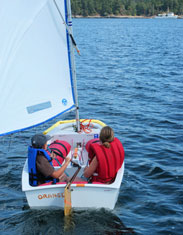 2020 COURSE DESCRIPTIONS
CANSAIL OPTIMIST PROGRAMS (Under 13 years)
All Optimist programs are one week courses. Classes run from 9 am to 3 pm Monday to Friday (unless otherwise noted).
The Opti Basic and Intermediate courses provide opportunity for attaining CANSail levels, but some sailors may need to take the program twice to achieve the level.
The Opti programs are taught in the Optimist boat. Children will be single-handing the boat.
Opti Basic (ages 10-12)
Basic sailing course for new sailors or those with limited sailing experience. Children will learn safety, crewing, steering and seamanship. Sailors have the opportunity to complete their CANSail 1.
Opti Intermediate (ages 10-12)
Pre-req: CANSail 1
Opti Intermediate continues to develop their skills in the Optimist dinghy as single-handed sailors. Sailors have the opportunity to complete their CANSail 2 and some may take this course twice to complete the level.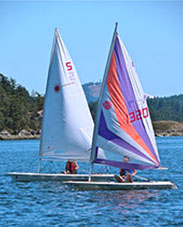 CANSAIL DINGHY PROGRAMS (Ages over 12 years)
Our sailors are using single-handed boats such as Lasers, RS Zests and Bytes. Two-handed 420s are available for family pairings and we will offer a discount.
Intro to Sailing – 1 week
An introductory sailing course for first-time sailors or those with limited sailing experience that provides the essential skills for on water safety, technical knowledge, and practical ability. No prior sailing experience is required.
Sailors in this course have the opportunity to complete their CANSail 1 level. Some may need to take this course twice to complete the level.
Basic – CANSail 2 – 2 weeks
Pre-req: CANSail 1, intro or equivalent sailing ability
For somewhat experienced sailors. Over a two-week period, sailors will be introduced to a variety of basic and intermediate single-handed sailing skills in the RS Zest or Laser. Sailors in this course have the opportunity to complete their CANSail 2 level
Facilities and Cancellation Policies
SISC Summer Sailing School uses a dinghy sailboat fleet of 420's, RS Zests, Lasers and Optimists (Opti's). In addition, our instructors use inflatable "chase boats" for on-water instruction and safety purposes. All our Sailing School boats are easily accessed and set up on a platform at the water level. This allows students and instructors to safely rig up the boats on the dock and easily slide the boats into the water when they're ready to sail.
Cancellation Policy:  We acknowledge the many COVID-19 related circumstances that may cause a sailor to need to cancel a registration between now and when a session starts. For these reasons, SISC would like to make it very clear that, in the event that SISC is unable to run camps, or in the event that a camper is unable to attend camps for COVID-19 related reasons at any point, refunds will be given in full, no questions asked.
For more information, contact the Sailing School Coordinator