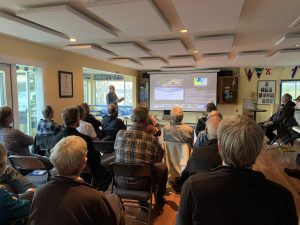 Chris Small drew a crowd of 23 members to his presentation about the salvage of a barge-cum-hotel in the Haida Gwaii area during 2018. 
Chris has been a full-time marine surveyor since 1979 and Certified Marine Surveyor with the National Association of Marine Surveyors since 1984. He has worked extensively in the BC marine surveying industry including work with the marine insurance industry pertaining to investigation of insurance claims, risk assessment for various marine operations and conditions, and detailed inspection for insurance renewal. Chris Small Marine Surveyors Ltd. has participated in numerous marine salvage operations around the BC coast as well as several other countries.
After solving some technological issues, Chris outlined the details of the danger and toxicity of working in a salvage environment where flammable gases abound, and of the strict protocols for working on this type of project in a remote and ecologically sensitive marine tidal environment.  This was an expensive and important salvage operation, which ultimately resulted in some government regulation changes regarding the storage of flammable substances.  Following the salvage presentation, Chris outlined some of the considerations involved in marine surveying vessels for various purposes.
Thanks go to Chris for putting together this presentation and for sharing his expertise with the Club.  As well, thanks go to organizers Cheri and Stewart Reid who, along with John Lugsdin, have been orchestrating these off-season seminars about boating safety and skills.