Partly cloudy, + 5 C, wind NW 4 to 6 kts. Course: Club start line, boat at anchor off Grace Point (S), boat at anchor off float plane dock (P), Harbour 5 knot speed buoy (P), Club finish. Ten boats at start line; three disqualified for hoisting flying sails.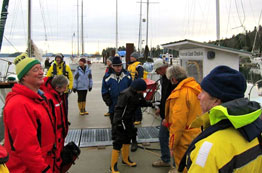 It is not every day that local sailors get to measure themselves against an Olympic qualifier. New Club member Richard Clarke, just returned from Australia where he clinched an Olympic berth for Canada with fellow crew Tyler Bjorn, was on board one of ten boats that competed in the Club's Hot Rum Race on January first.
After a tight group start, the fleet set out on a challenging, unusual course. Instead of rounding some of the traditional marks beyond the mouth of Ganges harbour, the course wound its way into the inner harbour past the float plane dock, among anchored boats, crab pot floats, and other navigation obstacles before returning to open water near the Sister islands. This called for skillful sailing in tight conditions to avoid contact with marks and other boats, made more interesting by the light and variable northwest breeze, i.e., true finger tip sailing. One could say almost Olympic class sailing.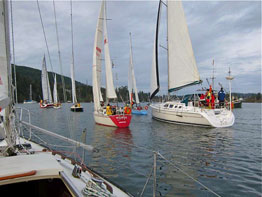 Some skippers and crew, possibly up a bit late the previous night and thus primarily reflecting on the physical wonders of bright light and sharp noises, just pointed their boat in the general direction of the action; others used every puff of air, wind shifts behind anchored boats and hidden lifts along the shore to better advantage and sailed a careful, tidy race. Larger boats soon pulled away from smaller ones and benefitted from the dying wind, a situation which always penalizes the last boats as they have to crawl over the finish line in plain sight of already docked and resting crews. This being New Year's Day, however, there was no waiting for late finishers because hot rum and lunch were waiting up at the clubhouse together with dozens of other members to cheer the winners and toast the new year.
This also being New Year's Day, some of the boats opted to have fun with the racing rules which called for no flying sails. The rule is meant to encourage new competitors to participate who might not have experience with flying the sometimes tricky, showy puffy sails. Some would say it's a bit like hobbling a thoroughbred in a horse race as it prevents racing boats from using their full potential. It was observed by reliable eye witnesses that a number of well known boats flew their chutes in spite of the rules, making the other boats even keener to beat them while sticking to the book. Because of this, it was anyone's guess as to who the true winner was until correcting the final time scores for handicap and the creative interpretation of the rules about spinnakers (some would call it cheating, but this is a gentlemanly sport and we are a Club of fair minded people).
Line honours went to Caliente, one of the largest boats in the Club, and first place was won by Bravo Zulu, the smallest boat racing that day. Every boat that started managed to finish in spite of the tricky light wind conditions. This was an auspicious start for the coming racing season, making it a successful milestone. As for our Salt Spring Olympic hopeful, how did he do? Let's just say that he's a Club member and it's a gentlemanly sport. We wish him good luck in his quest for gold later this year. Richard, fly the Salt Spring burgee high on your boat: we're cheering for you. – Report and photos by Philippe Erdmer on Bravo Zulu
HOT RUM RACE RESULTS – JAN 1, 2012
PHRF
Rtg 
Club
Rtg 
Rtg as
Sailed 
Boat
Skipper
Finish Time 
Correct
Time
(T-on-T) 
Place
240
21
279
BRAVO ZULU
Erdmer
11:44:47
01:00:50
1
141
12
180
ELECTRA
Kibble
11:40:12
01:05:11
2
148
21
187
WILDFIRE
Keating
11:44:37
01:08:36
3
120
38
176
VELICA
Argiro
11:50:17
01:14:59
4
111
21
153
SOUL THYME
Simpson
11:48:29
01:15:48
5
255
24
279
KIALOA
Chapman
VanGinkel
12:03:17
01:15:53
6
72
7
103
CALIENTE
Anderson
11:43:00
01:16:10
7
234
12
246
DERYN MOR
Vine
DSQ
234
24
258
MINKE
Meek
DSQ
120
0
120
RICOCHET
Clarke
DSQ