---
2017 CRUISING LOG
Gunkholing in the Gulf Islands Cruise, August 21-24, 2017
Read on for some photos and a description of the fun!
Click on a photo to enlarge it.
What could be nicer than gunkholing around the Southern Gulf Islands in late August in the company of fun and interesting Club members? Probably very little…and our recent Gunkhole Cruise was great fun.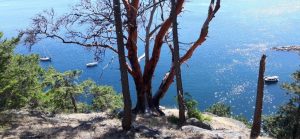 Barb and Arne on Dixey Rose, Doc and Susan on Kanga, Karen and Kim on Nest Egg and Jon and Jennifer on Khadine were along for the whole trip. We were sorry that Don and Alicia on Impulse had to leave Winter Cove early and that transmission issues meant that Deb and Pete on Dreki left us on Tuesday morning, but were glad Chris and Jens on Sula joined us in Narvaez Bay Tuesday afternoon.
We enjoyed terrific weather, great Bocce tourneys and good company as we explored places and routes new to some and familiar to others.
Happy Hours were, as ever, both delicious and a time to get to know each other better. Two sessions involved Bocce, with agreement that Beach Bocce on Sidney Island beats Lumpy Grass Bocce on Saturna. Arne and Kim were the big winners and made some amazing throws!! Karen, Kim, Arne, Barb, Jon and Jen hiked up the gully at Fiddler Cove and headed both away from and toward, but never reached, East Point. It is a steep climb but a terrific view from the top. Kim, Karen, Barb and Arne explored Darcy Island, with pictures to prove it.
Cruise leaders Jon and Jennifer Healey say thank you to all who participated in the cruise (and the Club thanks the Healeys for leading it).
---
Summer Solstice Cruise, June 22-25, 2017
Read on for a full report and photos of this wonderful cruise!
Right on cue, the hot sunny weather arrived just in time for the Summer Solstice Cruise. The first port of call on the itinerary, Mill Bay Marina, greeted us with a "Welcome Saltspring Sailing Club" sandwich board. They had set up tents and picnic tables for us on the docks for Happy Hour. Their warm hospitality has ensured that we'll be returning to this first-class marina.
The roll call at Mill Bay included 12 boats and 28 crew: Sandpiper with Rob Denny and Nighean Anderson, Dreki with Pete and Deb McGovern, Switchen to Glide with Pete and Debbie Brouwer, Kindheart with Casey and Kathleen de Jong and their guests Dan and Loretta, Dixey-Rose with Arne Hetherington, Blue Peter with Derek and Jenny Barrio, Sula with Jens Roland and Chris Smart, Corazon with Rod and Alicia Macdonald, Magena with John and Diane Lugsdin and their guests Gord and Susan, Bodacious with Steve West, Hot Rum with Brian Gilliam and Jill Collingwood, Special Time with Jan Macpherson and Jack Vandort; and Nest Egg with Kim and Karen Laidlaw.
Just before 1400 hours, a group of cruisers hiked over to Brentwood College for a tour. Clayton Johnston, Director of Admissions, discussed the history and philosophy of the college, followed by a guided tour of this beautiful oceanfront campus. Following the tour, the group wandered back along the shore and at 1730 hours gathered at the picnic tables for appetizers, beverages, and lively conversation. Following Happy Hour, some of the group enjoyed dinner on the docks, while others dined at Bridgeman's Bistro.
Click on a photo to enlarge it.
Friday morning, boats departed at their leisure, making their way to Daphne Island. Rob and Nighean had gone on ahead and were there to welcome us and give us our moorage assignments. The group welcomed 3 more boats at the second port of call: Deryn Môr with Kevin and Wendy Vine; Lo Lo with Dennis Fortin and Victoria Skinner; and Kay D with Martin Herbert.   Martin reported a long voyage from Salt Spring, which required some rowing when his sails ran out of wind. The Daphne Island roll call was an impressive 15 boats and 32 crew.
A carefree afternoon was spent visiting, swimming, hiking, and enjoying the beauty of Daphne Island.
At 1700 hours, the group gathered on the terrace for the 5th Annual Cruisers' Team Croquet Game. In a hard-fought battle, the defending champions (Kevin, Arne, and Kim, with the addition of Jenny this year) held off their opponents and took home the coveted trophy again. (Murmurings were overheard about following the actual croquet rules next year.) Following the tournament, everyone feasted on the scrumptious potluck dinner.
The next morning, we awoke to another fabulously sunny day. As folks visited on the docks, we bid goodbye to Arne, the Macdonalds, Jens and Chris, and Martin.
Midmorning, a flotilla of 12 boats cruised to Fisherman's Wharf in Cowichan Bay. As we arrived, the boats were assigned to slips scattered throughout the marina. Once docked, people wandered into the village to get a bite to eat or check out some of the shops. At 1700 hours the group gathered on one of the docks for Happy Hour, followed by dinner in the pub. Earlier in the day, our Cruise Captain was heard to say, "I just love staying in a working marina," which was true until the fishing boat next door fired up its engines at 2300 hours and ran them for an hour before departing for Whoknowswhere. Awww…the boating life!
By noon on Sunday, most cruisers had departed and were making their way back to Salt Spring. Some of the group were a bit disheartened to discover that their boats had taken home a souvenir of the cruise, namely seaweed that resulted in plugged heads and overheated engines. Our continuing motto is, "If it's not fun today, hopefully it's funny tomorrow."
---
Half Way Around Salt Spring and Back Cruise, May 19-22, 2017
Kim and Karen Laidlaw led a group of boats halfway around Salt Spring and back. Click this link: Half Way Around Salt Spring and Back, for a complete report and photos outlining the fun had by all.
---
Small Easter Cruise Contingent
The Easter weekend saw three determined boats congregate at Port Browning.  Click this link:  Easter Cruise 2017, for a complete report and photos outlining the fun had by Nest Egg, Shaunsea, and Inside Passage.
---
Cruising Evening with Ray Martin
The Cruising Committee, in cooperation with the SS Power Squadron, gives a hearty thanks to Ray Martin and Margot Challier for sharing their photographs and stories about their sailing trip down the coast of South America and around Cape Horn on March 31st at the Club.  If you didn't happen to make it to the presentation, here's what you missed: Ray Martin Poster !
---
Reciprocal News 2017
The Reciprocal Club roster is unchanged for 2017 and Fleet Captain Cruising Karen Laidlaw has taken on the role of Reciprocal Officer for 2017. Please refer to the Yearbook's Reciprocal Club Section for the current list of reciprocal clubs and visit www.yachtdestinations.org for the complete database of clubs, including information about a club's facilities, terms of use, and the surrounding area. Remember that the Cruising Committee encourages our club members who stay at reciprocal clubs to provide feedback regarding their experiences. The feedback allows us to share valuable information with our members, gives us the opportunity to deal with concerns, and is useful when deciding which clubs to renew our reciprocal agreements with.
---
BC Marine Parks Forever Society:
Thanks to everyone who came to the presentation by MPFS president George Creek on March 6.
Click the logo to go to their website:

---
Looking Ahead to 2017
The cruising committee is busy with plans for the 2017 season.  Watch this space for information about the annual Easter and May long weekend cruises, possible cruises to the San Juans, exploring Cowichan Valley wineries, the now annual jaunt to Victoria Harbour, and gunkholing around the southern gulf islands.  And, if you want to revisit last year' memorable cruises, check out the Cruising Archives link at the left.
---
Are You Planning Your Own Cruise or Rendezvous?
If you're planning your own cruise in 2017 and would like to have other Club members join you, let Cruise Captain Karen know: cruising@saltspringsailing.ca.  It can be included as a cruising opportunity on this page and some promotion can be done for you by the cruise committee.  Alternatively, you can post your plans yourself in the Member Exchange section for other Club members to see.
---
Are You Planning a Boating Trip to the USA?
If you're planning your own trip to the US, here are some tips about crossing the border in your boat: SISC- Procedure for small boat reporting