Pub Cruise (aka Cuddle Up with Your Partner Weekend)
Oct. 28, 29, and 30, 2016
To read the report and photos from this recent cruise, hosted by Diane and John Lugsdin, click the following link: pubcruise28oct16report.  Thanks to John Lugsdin and Steve West for this report.
---
September Cruise to Victoria Harbour
On September 20th, hosts Lynn and Michael Clark, Victoria Skinner and Denis Fortin on Selyna Rose, led Steve and Cindy West on Bodacious, Nancy and RB Bortz and friends on Effervescence l, Wendy and Kevin Vine on Deryn Mor, Kim and Karen Laidlaw on Nest Egg, Jean and Frederick Howell on Commitment, and Terri Skjaveland and David Cassidy on Aurora VIII to a wonderful sun-filled three days in Victoria.
Click on photos to enlarge
Four boats spent the first night at the Royal Victoria Yacht Club, where appies and dinner were shared aboard Nest Egg and Aurora VIII.
In Victoria, we were all at the same dock at the Harbour Authority's Causeway marina right below the Empress Hotel. The first day was spent doing individual activities such as visiting the Victoria Art Gallery, Emily Carr house, shopping, haircuts, and checking out pubs.
After a very short rest, we all assembled on the dock for happy hour with amazing appetizers. Everyone outdid themselves. Then some of the crews went out to dinner, others to a play and the rest stayed behind to enjoy the ambience of being on their boats in downtown Victoria.
Thursday saw us at the Ross Bay Cemetery for a guided tour by a member of the Old Cemeteries Society of Victoria, who are dedicated to researching, preserving and encouraging appreciation of Victoria's heritage cemeteries. Such notables as Emily Carr, Sir James Douglas (B.C.'s first Governor), coal baron Robert Dunsmuir (who built Craigdarroch Castle), and Billy Barker (discoverer of gold at Barkerville), just to name a few, are buried there.
That night, Michael and Lynn, who are members of the Union Club, had made arrangements for us to go there for dinner. They were offering an extensive Indian buffet, a pre-set 3 course meal, and a good selection off the menu. We were all impressed by the quality of the food and the friendly welcome we received. Derek Emmerson and Glenys Prince joined us at the Union Club for dinner.
Friday saw a few of us leaving for home at 6:30 a.m., in the dark and the rain, looking forward to help from tides and wind (for those of us who sailed) and seeing a very quick return home. Those who left it much later to depart were not quite as lucky, experiencing all that a front going through Haro Strait can come up with.
This is the second such trip to Victoria, in the same location and same time period; perhaps this can become an annual event, as there is always so much to see and do in this delightful city.  (Report by Victoria Skinner)
---
Open Boat Cruise Lots of Fun!
 The fleet consisted of Dave & Carmen (guests of the Club) in their outrigger sailing canoe "Easy Rider", Rob & Nighean in the canoe "Clipper", and Bernadette in her wooden rowing skiff "Snug", plus two wonderful mother ships, the Barrios' "Blue Peter" and the De Jongs' "Kind Heart".  We were also joined by Derek & Glenys on "Oracle" and Wayne & Karen on "Nauti Lady".
Setting out from Salt Spring on Aug. 10, we made a couple of stops along the way, and ended up at the south end of Pirate's Cove, DeCourcy Isl.  The beach was inviting and the clear, cool water tempting for swimmers.  The group enjoyed great walks all around the Park, including a stop at the famed treasure chest.  The story of Brother XII was always in our minds.
The second day, a group of us paddled and rowed all around DeCourcy, checking out nature's sandstone sculpture, and the little gap between Link Isl., which made an ideal lunch stop.
A lot of the fun was getting together for appies, first on "Kind Heart", then on shore in the picnic/camping area.  Sometimes the appies turned into real potluck dinners, with fabulous food, some fresh from the owners' gardens.  We would be watching the sun set and the moon come up while finishing our meals.
All vessels returned to Salt Spring on Sat., Aug. 13, in calm weather, warm temperatures, and the best scenery in the Gulf Islands.  Thanks to everybody for participating and helping out.  The following pictures will help to tell the rest of the story of a fine cruise.
Click on photo to enlarge.
---
Wonderful Weekend on Daphne Island
The summer weekend cruise on July 16th to 18th, to tiny Daphne Islet in Saanich Inlet, was a great success. The weather cooperated and there was both wind for sailing and lots of camaraderie. Over the weekend, twelve boats joined in on the cruise and enjoyed Rob and Nighean's warmth and hospitality at this jewel of an islet, owned by Rob's family since 1939.
Click on photo to enlarge.
Although the cruise was not technically scheduled to start until the Saturday afternoon, a few boats (Nest Egg, E Ticket and Oracle) left home on Friday and met up in Royal Cove on Portland Island for overnight. They did a hike the next morning and then headed to Brentwood Bay to meet up with everyone else.
Participating boats and crews were: Rob and Nighean on Sandpiper, co-hosts Wendy and Kevin on Deryn Mor, Kim and Karen on Nest Egg, Karen, Wayne and guest Susan on Nauti Lady, Victoria and Denis on E Ticket, Derek and Glenys on Oracle, Silk and David on Mystic, Pete and Debbie with guests Neil and Sheila on Switchen to Glide, Steve and Cindy on Bodacious, Kathleen and Casey with granddaughters Julia and Savannah on Kindheart, Barb and Arne on Dixey-Rose, and Keith and Suzanne with guests Liz and Philip on Soul Thyme.
Some of the larger boats anchored in Tod Inlet, some were close by on mooring buoys, and a few boats were lucky to have space at the island's dock. (It was much appreciated that Rob had arranged for the use of several private mooring buoys near the island.) As crews arrived, the potluck appetizers and dinner contributions were organized and a marvelous time was had over libations, food and conversation.
At dusk, some people headed out in dinghies to watch the Butchart Gardens fireworks from anchored boats, while others stayed on Daphne to watch. Two police boats were diligently patrolling the entrance to the inlet, checking dinghies for the presence of safety gear, lifejackets and flashlights. (The flashlights, BTW, were also helpful to navigate through the hundreds of jellyfish around the dinghies.)
While a few boats left Sunday morning for other adventures, Sunday afternoon saw most folks head down to Gowlland Tod Park for a hike on the trails in the cool of the forest.  (And some of the brave younger members of the crowd managed a dip.)
That evening when we gathered for happy hour, the group broke into teams and competed in the rather hilarious Cruisers' Croquet Challenge. The Black Team of Kim, Kevin and Arne handily took the exquisitely handcrafted perpetual trophy from previous trophy holders Kim and Karen.
And it was Kathleen's birthday, so the crowd sang in harmony…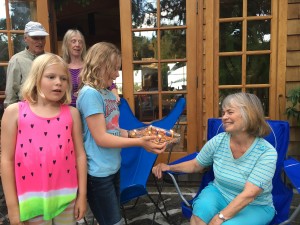 On Monday morning, people packed up at their own speed and some boats left quite early. A more leisurely group dinghied over to Brentwood Bay for breakfast before leaving.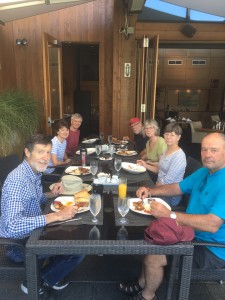 Huge thanks go to Rob and Nighean for hosting this cruise and for sharing the Daphne Islet magic, and to Wendy and Kevin for helping to organize it. Thanks also to photographers Silk, Victoria and Wendy for sharing their shots of all the fun. It was a wonderful weekend.  (Report by Wendy Vine)
---
Four New Reciprocal Clubs Added
Reciprocals Officer Alan Brooke reports that a number of new SISC reciprocal clubs have been added to our list, not all of which were confirmed in time to make the 2016 Yearbook.  New clubs for you to visit starting summer 2016 include:
Campbell River Yacht Club (Oyster River Estuary, BC)
LaConner Yacht Club (Swinomish Channel, WA)
Port Ludlow Yacht Club (Port Ludlow, WA)
Kingston Yacht Club (Kingston, WA)
As always, if you do decide to check out any of our reciprocal clubs, Fleet Captain Cruising Karen would love to hear about your experiences.(cruising@saltspringsailing.ca)
---
Historic Newcastle Island Proved a Great Cruise Destination
Because getting to Newcastle Island involves timing Dodd Narrows, most boats destined for the recent Newcastle Island cruise left well before Monday, June 20. Six boats met at Clam Bay on the Sunday for an overnight stop enroute. Dreki (Pete and Deb McGovern) and Deryn Mor (Kevin and Wendy Vine) arrived first and anchored on the north side of the bay, expecting rising NW wind overnight. They were soon joined by Dixey-Rose (Arne and Barb Hetherington) and Selyna Rose (Michael Clark, Victoria Skinner, and Denis Fortin). Kanga (Doc and Susan Paynter) was the last boat to arrive before a most enjoyable potluck Happy Hour on Selyna Rose. After dinner, Effervescence I (RB and Nancy Bortz) joined the anchored group. Bluebonnet's crew (Paul Bryant and Laurie Clark) e-mailed that, unfortunately, they were having motor issues and elected to stay close to home in Montague.
It was sometime after this that Michael Clark lost his first hat (see related story following this article.)
Click on image to enlarge.
After an unexpectedly quiet night, the flotilla left at about 8:30 and steamed toward Dodd Narrows, most arriving in perfect time and in perfect formation to go through at the slack. Sula (Jens Roland and Chris Smart) radioed to say that they, too, were having motor problems, so were heading back by sail and would not be joining the cruise. Nest Egg (Kim and Karen Laidlaw) joined the line up at that point (along with a 110 foot long powerboat who definitely did not feel he needed to join the formation, despite Michael's gentle suggestion on the radio…)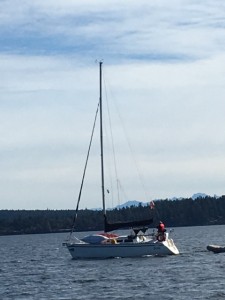 Once through Dodd Narrows and into Northumberland Channel, some boats put up their sails and managed an on-the-edge beat up to Nanaimo, with Deryn Mor barely squeaking by the rocks at Duke Point and Dixey-Rose having to throw in a tack. At that point, Kanga was out of touch…somewhere…but, to our relief, they radioed in just as we were entering Newcastle Passage. At Newcastle, everyone took a mooring buoy and had some free time for the afternoon; some crews explored the island and others headed to Nanaimo on the passenger ferry. By this time, Sea Runner (Greg and Holly Slakov) had arrived as well, reporting an excellent sail from Dodd Narrows after "squirting" through at 6.4 knots. Undaunted and stalwart, Kanga arrived in plenty of time for dinner. At 6 pm, everyone congregated at the Dinghy Dock Pub for an enjoyable dinner and lots of conversation between friends and new acquaintances. Nancy and RB hosted dessert in the roomy confines of Effervescence I.
On Tuesday morning, Selyna Rose and Dixey-Rose left early, while the rest of the group went for a historical explore of Newcastle Island, armed with maps and a modicum of prior knowledge. We found evidence of coal-mining and habitation during the herring and salmon fishing eras, as well as fascinating areas outlining the history of sandstone quarrying on the island. It was great to have the viewpoints and enthusiasm of 3 engineers (RB, Greg and Pete) to help the rest of us interpret what we were seeing. We were a curious and intrepid group!
Kanga and Sea Runner left Tuesday afternoon, before the remaining folks congregated on Effervescence I again for a great potluck dinner. Deryn Mor left Wednesday morning at 5:30 a.m. to catch the early slack and ebb tide all day. Dreki was headed north for a few weeks and Nest Egg and Effervescence I made their leisurely ways home.
Thanks to everyone who came along and made this such a good trip. These short Club cruises are a fine way to meet new people and to cruise with folks you might not otherwise have the chance to spend time with.  (Report by Wendy Vine)
---
The Saga of Michael's Hat…
(a testament to boaters by Victoria Skinner)
You will always see Michael Clark wearing his trusty Tilly hat when he is outdoors. He is wearing this hat when he takes his dog Pepper to shore, in Clam Bay. He slips on the rocks, getting completely soaked and not realizing until the next morning that he has lost his hat. No time to go looking—we have to make slack at Dodd Narrows.  So, he will just wear his ball cap. Well…it gets really windy later and, as he turns around to look back, alas—another hat ends up in the drink. We have a quick look for it, but it is gone. Because Michael is so fair-skinned and is virtually without other options, he is reduced to wearing his sou' wester.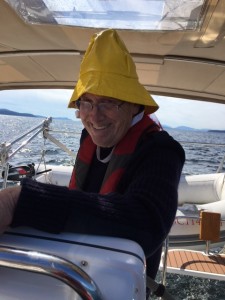 There is a happy ending to this story. When Michael arrives home, he gets a call to say that the Tilly was found amongst the rocks where he fell and is being held for him at Telegraph Cove.
---
Slow Cruise Around Saltspring Proves Tons of Fun!
As the sailors prepared to race their way around Salt Spring Island, the cruisers started a day early and took a more leisurely voyage around the island.  Friday's informal flotilla of boats included Sunniva (Nelly Tom-Kee and Jan Fellenius), Bodacious (Steve and Cindy West), Sufi (Alan and Mary Hughes), Switchen to Glide (Pete and Debbie Brouwer), Magena (John and Diane Lugsdin), Karma IV (Nancy Côté and Allan Sobieralski), Corazon (Rod Macdonald and Scott), Sandpiper (Rob Denny and Nighean Anderson), and Nest Egg (Karen and Kim Laidlaw). Our first port o'call was Montague Harbour and by mid-afternoon, most of the cruisers had grabbed mooring buoys and settled in.  By 1700 hours, people were gathering in the picnic area at the top of the ramp.  However, there was a bit of mystery as to the whereabouts of the crew of Sunniva.  After some very slow emails and texts (…not the best reception in the harbour…), the boat was discovered tied to a dock at the Montague Marina.  The puzzle was eventually solved when Nelly and Jan managed to hitch a ride, and arrived bearing homemade authentic Chinese dumplings.  These delicacies were scarfed down in record-time and got 5 stars from the food critics.
Click on photo to enlarge
Saturday morning dawned sunny and calm and, one-by-one, the boats made their way to Chemainus.  Once settled in the marina, it wasn't very long before we welcomed Dennis Fortin and Victoria Skinner on E-Ticket and Kevin and Wendy Vine on Deryn Môr.  The afternoon found a group of us enjoying a beer on the deck of the Willow Tree Cafe in downtown Chemainus, while others were checking out the deals at the local thrift shops.  Happy hour was hosted by Pete and Debbie Brouwer on the flybridge of Switchen to Glide, followed by dinner on the docks.  Mary and Alan and Jan and Nelly took in the performance of "Harvey" at Chemainus Theatre and reported an enjoyable evening.  As dusk was settling in, Gord and Laura Dafoe on Equanimous sailed into the marina.  As luck would have it, it was just in time for Gord to be conscripted for kitchen patrol on Nest Egg.  Once the dishes were dried, a group congregated on E-Ticket for an evening of visiting, scotch and bourbon tasting, and ended with a rollicking sing-along, compliments of Dennis's eclectic playlist.
On Sunday morning, the group split up, with some boats heading back to Salt Spring (Corazon, Sufi, Sunniva, and Magena) while the rest set sail for Russell Island.  Some of the sailors reported crazy wind gusts through Sansum Narrows, however superb sailing skills averted disaster.  Just as boats were getting anchored and settled in off Russell Island, Captain Fortin arrived with an unfavourable wind warning update.  It was decided to go with Plan B, which was heading for the shelter of Annette Inlet.  Switchen to Glide, Bodacious, Equanimous, and Karma IV decided to head for home instead, while E-Ticket, Sandpiper, Deryn Môr, and  Nest Egg, along with Arne and Barb Hetherington on Dixey-Rose, headed for Prevost Island.  Once anchored in the interior bay of the lovely and protected Annette Inlet, the group was joined by Bruce Grey (Sojourner) for happy hour and dinner aboard Nest Egg.
After a quiet night, everyone headed for home, looking back on a most successful cruise, with a total of 14 boats joining the cruise for some or all of the weekend.  The next cruise to watch for is the Historical Cruise to Nanaimo and Newcastle Island in late June, hosted by Wendy and Kevin Vine.  Details will be posted very soon.  (Report by Karen Laidlaw)
---
Easter Cruise…Read All About It! 
(Click on photos to enlarge.)
Good Friday 2016 was good for so many reasons.  It was warm and sunny, the seas were calm, and there were 10 boats and 22 people cruising to Saturna Island.  What could be better?  Gail and Patrick Beattie aboard Last Call traveled the furthest and yet were the first to anchor in Winter Cove.  They were nominated to be the party boat and soon were sandwiched between Nest Egg (Kim and Karen Laidlaw) and Deryn Môr (Kevin and Wendy Vine).  It didn't take very long before Winter Cove was filled with boats bearing the SISC burgee:  Rob Denny and Nighean Anderson aboard Sandpiper, Eric and Julie van Soeren on Second Wind, Bob Jones and Dorothy Finnigan on Oasis, Bruce Grey and Sherry aboard Sojourner, Wayne and Karen Tepper on Nauti Lady, and Chris Cheeseman and Gill Taylor aboard Winterlude.  A very happy hour or two was hosted by Nest Egg and Last Call.  Just as the sun headed down and the air cooled off, the crowd gathered in the cozy confines of Last Call to enjoy a potluck feast complimented by wine, good conversation, and much laughter.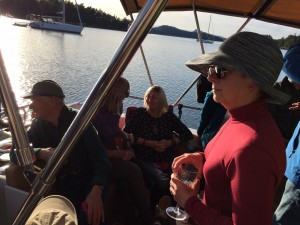 Saturday morning dawned sunny and calm.  Perfect weather for a walk, a run, or some puttering about on the boat.  About noon, Inside Passage arrived with Lyall, Perry, Callah and Seija Ruehlen aboard, just in time for the Grand Tour of Saturna Island.  Paul Brent, tour-guide/bus-driver extraordinaire, welcomed us aboard the Saturna Shuttle.  Our first stop was the Saturna Heritage Centre housed in the Fog Alarm Building on Saturna's East Point.  Richard Blagborne, a former Salt Springer, presented a fascinating account of the history of Saturna Island and the Fog Alarm Building.  Then, it was time for the Whale Walk along the stunning sandstone shoreline which offered a fabulous view of Boiling Reef in Boundary Passage, Mount Baker, and the San Juan Islands.  Back on the bus, we headed for Mount Warburton Pike, the highest point on Saturna.  The drive is a long, winding road pockmarked with potholes, but the reward is a panoramic view of Plumper Sound, the Pender Islands, and south to the San Juan Islands.  We did a tour of downtown Saturna (if you blinked, you missed it) before ending up at the Lighthouse Pub in Lyall Harbour for a pint or two.  On schedule, we were back in Winter Cove just in time for Happy Hour and dinner aboard Last Call.  In a repeat performance, we enjoyed good food, copious beverages, and warm camaraderie.  The Easter Bunny was contacted on the radio so that the Ruehlen girls could let him know where they were staying for Easter.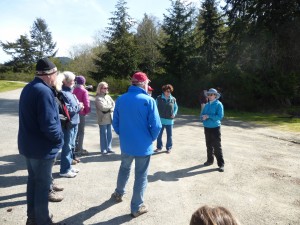 We awoke Sunday morning to find that the Easter Bunny had made his visit to Inside Passage, and the girls stalwartly participated in the Saturna community Easter egg hunt in the rain.  The forecast included wind warnings so, instead of cruising to Port Browning, all boaters heeded the warning and headed for home.  By all accounts, the first cruise of the year was a resounding success.  A big thank you to Patrick and Gail Beattie for hosting dinner each evening aboard Last Call.  (Report by Karen Laidlaw)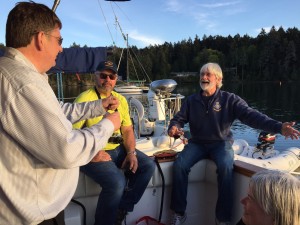 ---
My Favourite Reciprocals
Thanks to everyone who came out to the Reciprocal Conversation evening on March 7.  Click to download the pdf file of reciprocal moorage: SSISC-Recips-Full-Page_109  (NB: not completely current now;  see previous article above re new reciprocals added for summer 2016) and the information about the new customs regulations for entering the US by boat: SISC- Procedure for small boat reporting..