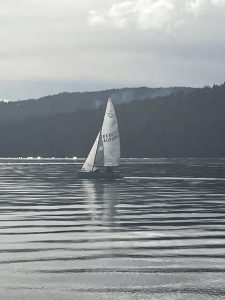 No wind at the start resulted in moving the start line to Second Sister.
A building breeze and sunny sky resulted in a very enjoyable counterclockwise rounding of Prevost for the seven Saltspring club boats plus one visiting boat from Pender.
No wind at Second Sister on the return resulted in the Kay D crushing the fleet.
PHRFBC Results
| | | | | | | | |
| --- | --- | --- | --- | --- | --- | --- | --- |
| PHRFBC | | | Finish | Corrected | | Rating for | club |
| Rating | Boat | Skipper | Time | Time | Place | Next Race | points |
| | | | | | | | |
| 208 | KAY D | Herbert | 13:38:39 | 02:48:26 | 1 | 208 | 100 |
| 141 | FIREFLY | Woolcock | 13:40:30 | 03:07:20 | 2 | 141 | 86 |
| 96 | OGOPOGO | Faget | 13:28:14 | 03:08:04 | 3 | 96 | 72 |
| 84 | SHINGEBISS | Keating | 13:34:02 | 03:18:03 | 4 | 84 | 57 |
| 71 | SORCERY X | Slakov | 13:34:20 | 03:22:44 | 5 | 71 | 43 |
| 0 | PTURBODACTYL | Tulip | 13:21:15 | 03:34:04 | 6 | 0 | 28 |
| 117 | INVICTUS | Lhotzky | no time report | | 7 | 117 | 14 |
THC Results
| | | | | | | |
| --- | --- | --- | --- | --- | --- | --- |
| Club | | | Finish | Corrected | | Rating for |
| Rating | Boat | Skipper | Time | Time | Place | Next Race |
| | | | | | | |
| 167 | KAY D | Herbert | 13:38:39 | 02:58:29 | 1 | 158 |
| 131 | SHINGEBISS | Keating | 13:34:02 | 03:03:45 | 2 | 125 |
| 135 | FIREFLY | Woolcock | 13:40:30 | 03:09:03 | 3 | 132 |
| 92 | SORCERY X | Slakov | 13:34:20 | 03:15:47 | 4 | 95 |
| 35 | OGOPOGO | Faget | 13:28:14 | 03:28:45 | 5 | 41 |
| 9 | PTURBODACTYL | Tulip | 13:21:15 | 03:30:25 | 6 | 18 |
| 135 | INVICTUS | Lhotzky | no time report | | 7 | 135 |