Three weeks of fun times on the water have gone by like a breeze for the Sailing School. There have been days of strong winds and big waves, giving challenges to the new sailors, and they have done well with the help of the sailing school coaches.
Campers have been learning about points of sail, steering, working with the sails, simple courses, and how to manoeuvre in and out of the docks. At the end of the day, the campers come as a troupe off the docks – happy and tired out – some of them totally wet – but all of them having fun.
The inventory of SISC training boats has been well used. So far all seven of the club's 420s, all ten of our Optis, and all five of our coach boats have been used for the camp, though not necessarily all at once.
153 Sailing School spots have been filled for the summer so far, with 21 campers taking two-week camps and others participating in one-week camps. Many camp weeks are completely filled up, but spaces remain especially in dinghy classes.
Sailing School continues until the end of August, with campers ranging in age from nine to teens, and a range of levels being offered from beginner Opti to CANSail 5/6.
Thanks to all SISC members for keeping their eyes out for Sailing School boats on their way in and out of docks.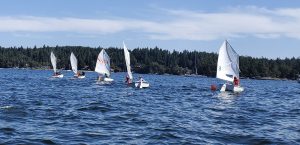 Campers catching the wind in the Optis on July 13
article submitted by Tasha Kilpatrick